Welcome from Colin at Devon Piano Lessons
 Colin Mitchell, ARSM Piano and Keyboard Teacher.
Ready to embark on your musical journey?
Look no further.
Music teacher offering lessons in classical, jazz, rock, and pop  

Friendly, enjoyable, and fun lessons that inspire students to achieve their full potential 

Well-rounded approach to teaching, including music theory 

Lessons tailored to meet individual requirements and musical preferences 

Travel-to-your-home music teacher for convenience and parental involvement 

Hour-long lessons for adults and half-hour lessons for children available

One-off, no obligation lesson available to discover what musical direction you would like to travel. 

Electronic keyboard lessons also available 

Age is no barrier when it comes to music, whether for pleasure or exams.
Testimonials
"Colin has been an inspirational teacher and mentor to our son for the last nine years and has never missed a lesson!
Colin has and incredible breadth and depth of musical experience and knowledge both playing and teaching.  His incredible talent and ability as a pianist and musician means he is able to play and teach a huge range of repertoire;  From classical to jazz to funk and pop, even hymns and more...
His patience, infectious passion for music and fun easy-going nature means he is able to connect with and teach any age, any style.
We have recommended Colin as a teacher to many friends and their children over the years and they all think he's brilliant too!"
Caroline
''I just wanted to say a massive thank you for being such a fantastic teacher over the years. I will truly miss our lessons.''
From a fantastic Grade 8 student who has come of Univsersity age!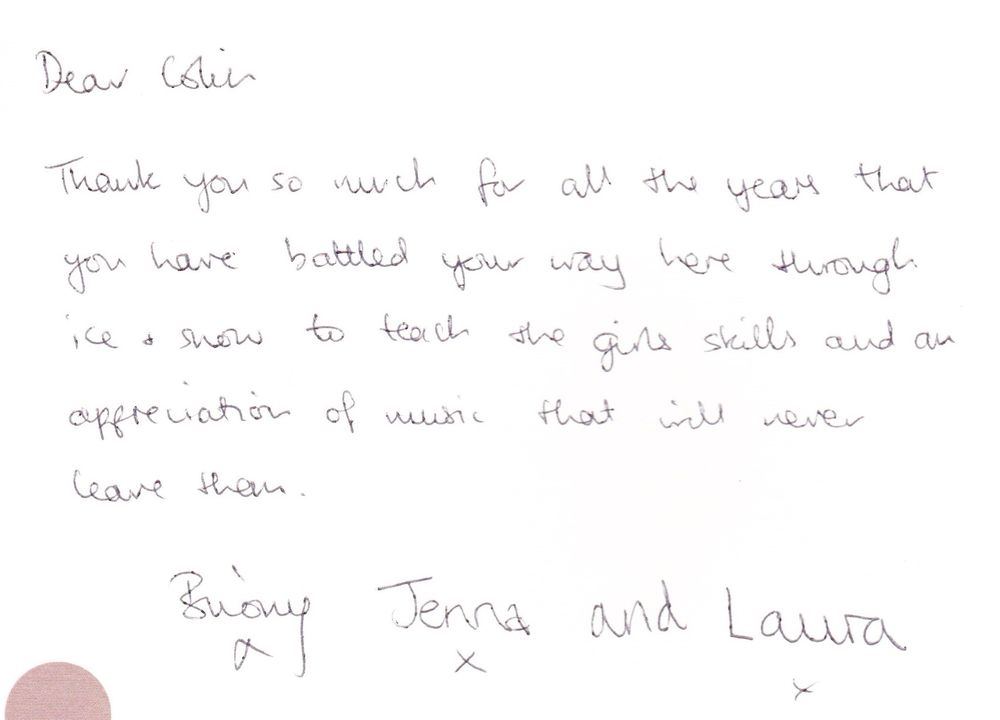 "Dear Colin Thank you so much for all the years that you have battled your way here through ice & snow to teach the girls skills and an appreciation of music that will never leave them."
Briony, Jenna and Laura